I'm delighted to introduce you to the deliciousness of Haitian Mac and Cheese. This deliciously tropical twist on classic comfort food will surely become a family favorite for all lovers of mac and cheese alike! 
It features sauteed bell peppers and onions atop its crispy golden crust perched at that savory, cheesy center between those tender ravioli; what could be more delightful than this? 
Is Makawoni au Graten different from classic mac and cheese?
First, let's answer the question on everyone's mind – is Haitian Macaroni and Cheese different from classic mac and cheese? 
 
The answer is yes!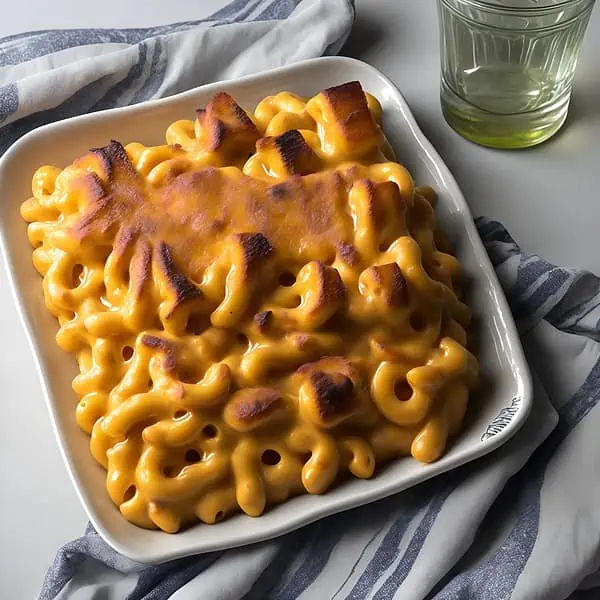 This captivating creation from Haiti's Mac and Cheese takes the quintessential recipe and infuses it with a compelling twist. 
Adding sautéed bell peppers and onions infuses this dish with an explosion of flavor absent in traditional macaroni cheese. Undoubtedly, one cannot forget its tantalizing golden exterior; it offers a distinct taste.
Ingredients used in Macaroni and Cheese
Now let us investigate the ingredients you will require to craft this delicious dish. You'll need elbow macaroni, butter, flour; milk; shredded cheddar cheese; diced bell peppers, and onions alongside bread crumbs – a veritable flavor explosion awaits your palate!
How to prepare Haitian Mac and Cheese
Ingredients for a serving of 5 people:
10 oz (283 g) pasta penne or rigatoni
1 tbsp unsalted butter
3 tbsp finely chopped onion
1/2 cup sliced red and yellow bell peppers (red and green will work too)
2 cloves garlic, finely minced
9 oz (255 g) evaporated milk (like Nestle Carnation or homemade*)
1/3 cup (76 g) mayonnaise at room temperature
1 1/4 cups (141 g) shredded Gouda cheese, plus more for topping (shred your cheese for best results)
1/3 cup (29 g) grated Parmesan cheese, plus more for extras (shred your cheese for best results)
Salt and pepper to taste
Instructions:
Preheat the oven to 375°F (190°C).
Cook the pasta according to the package instructions until al dente. Drain and set aside.
In a large skillet over medium heat, melt the butter. Add the onion and peppers and cook until softened, about 5 minutes. Add the garlic and cook for an additional minute.
In a medium bowl, whisk together the evaporated milk and mayonnaise. Add the Gouda and Parmesan cheeses and stir until combined—season with salt and pepper to taste.
Add the cooked pasta to the skillet with the vegetables and toss to combine.
Pour the cheese sauce over the pasta and stir until the pasta is evenly coated.
Transfer the pasta mixture to a 9×13-inch baking dish. Sprinkle additional Gouda and Parmesan cheeses over the top.
Bake for 25-30 minutes until the cheese is melted and bubbly and the top is golden brown.
Serve hot, and enjoy!
Making your own evaporated milk is easy; you need 1 and 1/2 cups (375 ml) of full-fat milk and a non-stick saucepan. This will yield 3/4 cup (185 ml) of the pleasantly creamy dessert.
After 25 to 30 minutes of simmering over medium heat, the mixture should have greatly decreased and taken on a milky hue. 
Using a strainer, carefully separate the particles from the liquid, then put the liquid to any use you choose!

What makes Haitian Macaroni au Gratin unique?
Now, let's delve into the characteristics of Haitian macaroni au gratin recipe that make it distinctive. Not only do we have the exotic flavor combination with bell peppers and onions, but also its symbolic relevance: an iconic dish that generations of Haitian families have enjoyed for decades. 
This nourishing comfort food unites people from all walks of life, embodying Haiti's rich culture and bringing it together uniquely!
The history and cultural significance of Macaroni au 
Haitian Mac and Cheese have been treasured as a delicacy in Haiti for centuries. 
It is often served during special occasions such as holidays or reunions – an effortless symbol demonstrating the appreciation and care put into preparing an inviting meal for loved ones.
Is Haitian Mac and Cheese different from classic American ones?
Haitian recipes for Macaroni and Cheese is a veritable tropical twist on the quintessential comfort fare. While both dishes share similarities, several distinguishing characteristics set them apart.
Ingredients used in Haitian Mac and Cheese
The first difference is in the ingredients. Haitians typically includes sauteed bell peppers and onions, which add a flavorful kick to the dish. baked macaroni and cheese also often use scotch bonnet pepper for extra heat, a staple in Haitian cuisine.
Preparation of Macaroni au gratin
The second difference is in the preparation method. To make it the Haitian way, cook the onions and peppers until they are soft and translucent. 
Then you add the cheese sauce made from a combination of evaporated milk, butter, and grated cheese. Finally, mix the cheese sauce with cooked macaroni and pour it into a baking dish. The dish is then baked until the top is golden brown and crispy.
Variations of the Dish
While there is no "right" way to make Haitian Mac and Cheese, the dish has many variations. Some cooks add different cheese or spices, while others use different vegetables or meats. Some dish versions are baked in pastry crusts or served in individual ramekins.
 
Regardless of the variation, it remains a delicious and comforting dish beloved by all who try it.
How to serve?
Now that we've covered the history and variations of Macaroni au Gratin let's talk about how to serve this delicious dish.
Pairing options
Baked pasta is an exceptionally versatile dish that can be matched with various dishes. My personal favorites include charred poultry, roasted vegetables, and succulent fruit!
 
It pairs well with a variety of different dishes, including:
 
Create a delectable dining experience by grilling or roasting meats, such as chicken, beef, or pork, and serve it together is an ideal dish to make ahead of time! 
If you plan on hosting an event soon (a barbecue), consider preparing it the day before for convenient reheating. This will save valuable time that could be utilized elsewhere with your other preparations!
 
This dish is a delectable and unique take on the classic comfort food that everyone should sample. 
Its savory ingredients and crispy crust will ensure an absolute crowd-pleaser on any occasion! With our tips for creating the perfect dish, you can craft this delicious treat confidently – so why not try it? You won't be disappointed!