The Football Inter Club Association FICA football team celebrated its 50th anniversary with a friendly game between FICA veterans and friends vs. Springfield veterans and friends. The game took place at Montbellier park on Springfield Blvd.
Following a national football school championship and the return of a victorious tour in the Dominican Republic, the Football Inter Club Association (FICA) was founded on 17 October 1972 in a room at the Collège Notre-Dame du Perpétuel Secours on the initiative of a group of young students, all originally from Cap-Haitien.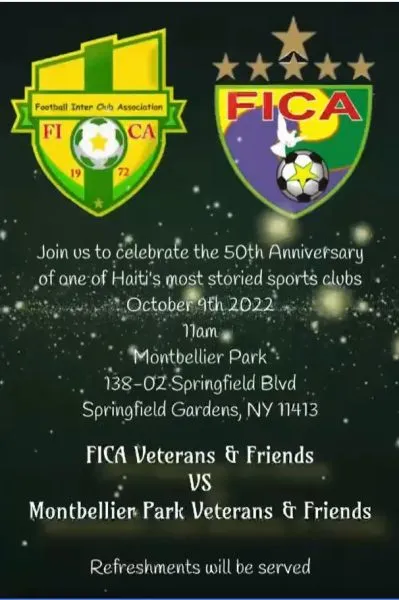 FICA has succeeded several times, winning seven titles and reaching the CONCACAF Champions League's 2nd round on two occasions.
The two teams matched evenly. FICA and friends had a slight advantage because Golman Pierre was on their side. Golman scored over 130 goals for club FICA and the Haitian national team.
Like he did so many times for club and country, Golman scored the winning goal for FICA and friends just a few seconds after entering the pitch.