Picture yourself in a tropical paradise, surrounded by cobalt-blue pools and waterfalls, with the sun kissing your skin. Welcome to Bassin Bleu, a hidden gem nestled in the mountains near Jacmel, Haiti.
Bassin Bleu: The Pools and Waterfalls
Located just 12km from the city of Jacmel, Bassin Bleu is a series of three natural pools—Bassin Clair, Bassin Palmiste, and the main attraction, Bassin Bleu—linked by waterfalls. Sheltered and surrounded by smooth rocks draped with maidenhair and creeper, these pools boast some of the prettiest swimming holes in Haiti.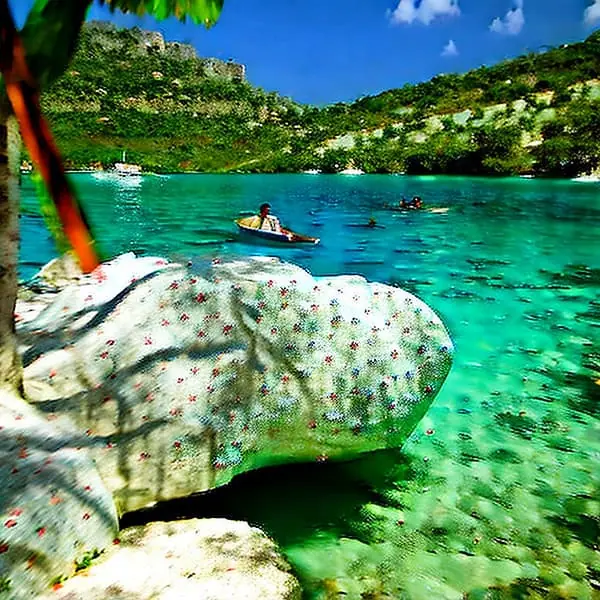 As you hike up to the pools, you'll be awestruck by the turquoise waters that change to a mysterious, muddy brown after heavy rainfall. Be prepared to channel your inner explorer as you traverse rocky terrain, grottoes, and lush vegetation.
Tip: Wear sturdy shoes and bring a change of clothes—you might get a little muddy!
Dive into the Depths of Bassin Bleu
The waters of Bassin Bleu offer a refreshing escape from the Caribbean heat. Once you arrive at the main pool, take time to be awed by its immensity – ranging from a few feet to over 500ft in some areas! Assess this vastness and experience the delights it offers.
Feel free to jump in and swim, but remember, the mineral-rich waters can be deceptively deep. Keep an eye out for local guides who can provide valuable insights into the safest areas for swimming and jumping.
Fun Fact: The waters of Bassin Bleu are said to have rejuvenating properties. So, take a dip and emerge feeling brand new!
Explore the Surrounding Landscape
The journey to Bassin Bleu offers a chance to immerse yourself in Haiti's natural beauty. On your trek through the mountainous terrain of Hawaii, you'll come across a plethora of flora and fauna indigenous to this island. Don't forget to pack your camera as you take in breathtaking vistas along the way!
For a truly immersive experience, consider joining a guided tour. Local guides can share fascinating stories about the area's history and culture while pointing out hidden gems you might miss on your own.
When to Visit and What to Expect
Bassin Bleu can be visited year-round, but be prepared for varying conditions. During the rainy season, pools may become inaccessible as water levels can change drastically. Make sure to assess the forecast before you set out and prepare accordingly.
Be prepared to pay a pittance for entrance, and don't be surprised if you come across opportunity-seeking locals offering their services as tour guides. While it's not required to hire a guide, their expertise can enhance your visit and support the local economy.
Food and Drink: Delight Your Taste Buds
After a day of exploring, you're bound to work up an appetite. Luckily, there's a charming restaurant nearby that offers delicious local cuisine. Recharge with a plate of rice and beans, and wash it down with some refreshing coconut water or an ice-cold Prestige beer, Haiti's national brew.
Beyond Bassin Bleu: Other Must-See Attractions
While Bassin Bleu is undoubtedly a highlight, there's so much more to discover in the surrounding area. Consider extending your visit to include other attractions like the vibrant city of Jacmel, known for its arts and crafts, or the stunning beaches of southern Haiti.
For an unforgettable adventure, add a day trip to the nearby island of Île-à-Vache, a pristine paradise with sandy beaches and crystal-clear waters. Whether you're looking to soak up some sun or explore the island's lush landscapes, Île-à-Vache has something for everyone.
Plan Your Trip to Bassin Bleu
Are you ready to set out on an unforgettable jaunt? Let's get booking a flight to Port-au-Prince, Haiti's capital city. From there, it is just a brief journey or bus ride to Jacmel, where you can arrange transportation for Bassin Bleu; alternatively, if you are interested in taking advantage of the tour opportunities available here, then simply conjoin one!
As you plan your visit, be sure to pack essentials like sunscreen, insect repellent, and a hat to protect yourself from the sun. And, of course, don't forget your swimsuit!
Final Thoughts and Tips for a Memorable Visit
In truth, the Bassin Bleu of Haiti is a veritable trove of beauty and riches – an opportunity to savor the country's natural splendor while also experiencing its rich cultural legacy. To gain maximum enjoyment from your trip, consider these tips:
Embrace the adventure: Hiking to Bassin Bleu can be challenging, but the rewards are well worth the effort. Be prepared for a bit of a workout and enjoy the journey.
Travel responsibly: Be mindful of your impact on the environment and support the local community by hiring guides and patronizing local businesses.
Capture the memories: Bring a waterproof camera or phone case to capture the stunning views and magical moments you'll experience at Bassin Bleu.
Stay safe: Pay attention to your surroundings, and follow any safety guidelines provided by your guide or posted at the site.
With these tips in mind, you're ready to embark on an unforgettable adventure to Bassin Bleu. So, gather your gear, lace up your hiking shoes, and prepare to be amazed by the beauty and enchantment that await you in this hidden paradise.