Exhilarated by their victory, the "400 mawozo" resolved to attack the Chen Mechan base before staging a surprise retreat following the handover of their brain master to the United States. RNDDH chronicles the rise and fall of this well-known and influential gang.
The 400 Mawozo Gang: An Overview
Wilson JOSEPH, aka Lanm 100 Jou, is the leader of the 400 Mawozo gangs. Except for the commune of Cornillon, it covers the whole Croix-des-Bouquets area.
Along with the gang leader Vitelhomme INNOCENT, an ally, the 400 Mawozo also controls a portion of the commune of Tabarre – the other half of which is annexed to Chen Mechan territory – and a portion of Pétion-Ville.
The gang was known as 70 Mawozo when Germine JOLY alias Yonyon founded it. It was a robbery and armed robbery specialist. He was also blamed for a couple of kidnappings followed by sequestration for ransom at the time.
The Direction Centrale de la Police Judiciaire (DCPJ) detained Germine JOLY alias Yonyon in 2014. There was a slight reprieve in the neighborhood following his capture. He was arrested on January 24, 2015.
The gang 70 mawozo reformed in 2016, following many stutters. They later changed their name to 400 Mawozo. Robbery, hijacking cargo vehicles from the Dominican Republic and deaths were added to the previous charges.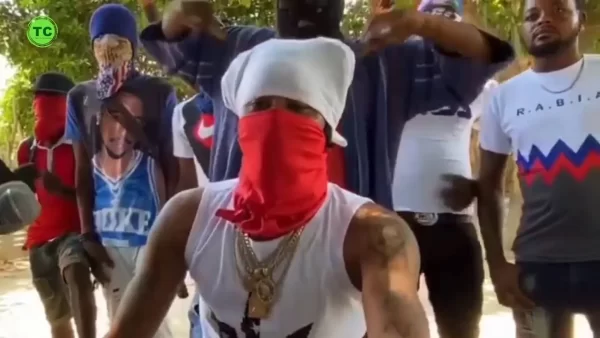 They were also known for kidnappings followed by ransom demands. In Haiti, multiple examples of kidnapped men being raped by their captors are brought to light for the first time.
On May 23, 2018, Germine JOLY alias Yonyon was tried and sentenced to life in prison without a jury by the Criminal Court of Croix-des-Bouquets. The charges were kidnapping followed by sequestration for ransom, rape, armed robbery, murder, illegal possession of firearms, and criminal conspiracy, to the detriment of more than twenty (20) plaintiffs.
Germine JOLY never lost control of his armed gang while incarcerated. Although he was imprisoned, he led it with an iron hand. Indeed, he had sophisticated mobile phones and enormous sums of money at his disposal thanks to preferential treatment and the cooperation of agents from the Direction de l'Administration Pénitentiaire (DAP).
This scenario allowed him to coordinate his illegal operations, throw memorable jail parties, and pay select DAP officials who were less than honest.
Wilson Joseph alias Lanmo 100 became the 400 Mawozo gang's leader simultaneously. Lanmo san jou quickly established himself as a ruthless killer. He expanded his dominion in the Cul-de-Sac Plain and its surrounding areas. Along the way, he acquired allies as well.
The 400 Mawozo operate in the marketplaces, demanding significant amounts of money from private enterprises and government entities, including local police stations.
They command their domain, which operates according to their wishes. Armed attacks and periodic paralysis of socio-economic activity have marked life in the commune of Croix-des-Bouquets since then.
In addition, the 400 Mawozo gangs have formed a court to judge civilians. Troublemakers, for example, may be made to pay between 7,000 and 10,000 gourdes for discussions/noise on the public route.
Because of this condition, and primarily because of the state's indifference to the people's suffering, entire families had already opted to flee their homes.
However, the gang had taken steps to expand its area, mainly when Wilson JOSEPH alias Lanm 100 Jou assumed command of the 400 Mawozo. The armed bandits, forced out of Butte Boyer by the Chen Mechan, were reinvigorated in their desire to reclaim their previous camp.
In January 2022, the raids became increasingly common. In the commune of Croix-des-Bouquets, terror was maintained. The state officials initiated conversations with the 400 Mawozo at the time because they intended to hold carnival celebrations in the Centre department from February 27 to March 1, 2022.
They also desired to clear the Malpasse road. Following these agreements, many million gourdes were paid in February 2022. Then there was a slight pause.
The 400 Mawozo were active again in April 2022 and could capture considerably more area. They chose to strike the Chen Mechan base, boosted by their victory and knowing they could rely on their weapons and ammo sources.
Following the kidnapping of 17 missionaries, The notorious gang leader of 400 mawozo was charged and brought to the U.S.