Girl, let me tell you—weddings in Haiti are a true celebration of love, family, and culture! From the choreographed processionals to the three-hour ceremonies on wedding day, Haitian weddings definitely know how to bring joy and vibrancy. Grab some pikliz and settle in, because we're dishing all the deets on how Haitians say "I do!"
Marriage traditions in Haiti vary between social classes and rural versus urban areas. But some classic elements really stand out. Haitians put major emphasis on family throughout the whole shebang.
And their African roots shine through in the music, dancing, and spiritual dimensions. Most of all, Haitian weddings are about embracing life's blessings—especially finding your soulmate!
Overview of Haitian Wedding Traditions
Unlike in America, Haitian weddings usually don't have formal invitations. Word of mouth spreads the news instead! The groom's family foots the bill for all wedding expenses.
And forget bridesmaids in matching dresses; the maid of honor and best man are the real VIPs. From choreographed processionals to hours-long ceremonies, Haitian couples celebrate their big day in ways all their own.
And whew, the receptions! We're talking non-stop dancing and music, tables just for the couple, and gifts for guests. Haitian newlyweds even get a honeymoon retreat before jumping into married life. Read on for all the fabulous details!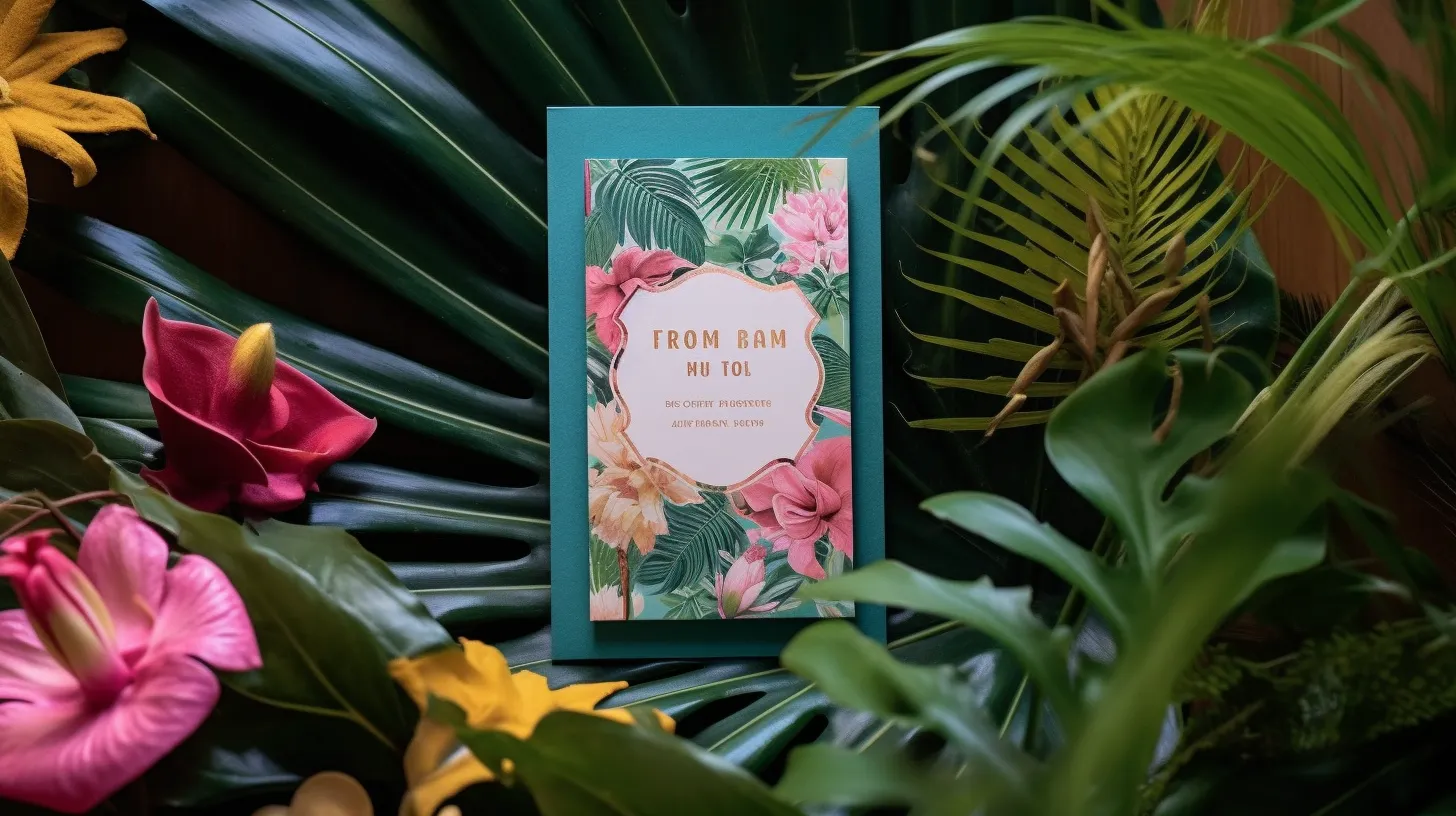 No formal wedding invitations
Save the fancy calligraphy and reply cards; in Haiti, weddings are announced through word-of-mouth and community connections. Since most Haitians have limited literacy, printed invitations aren't very common, especially in rural areas. Phones aren't too widespread either.
So couples rely on their networks to spread the wedding news. It helps that Haitians have super strong bonds with extended families and neighbors! Even if invites aren't mailed, rest assured everyone will hear about the big event.
The groom's family pays for the wedding.
Brides, get those wallets away; the groom's side handles all wedding costs in Haiti! The groom himself is expected to pay for the bride's dress, the wedding location, food, decor, music, and any transportation.
Whew, that's a whole lot of gourde! But the groom's family considers it an honor and duty. Parents especially take pride in contributing. This shows Haiti's more traditional values, where men bear financial responsibility in relationships.
Of course, equality is making strides as Haiti modernizes. Some brides now chip in or cover expenses like the dress. But the groom's family remains key to making the celebration happen.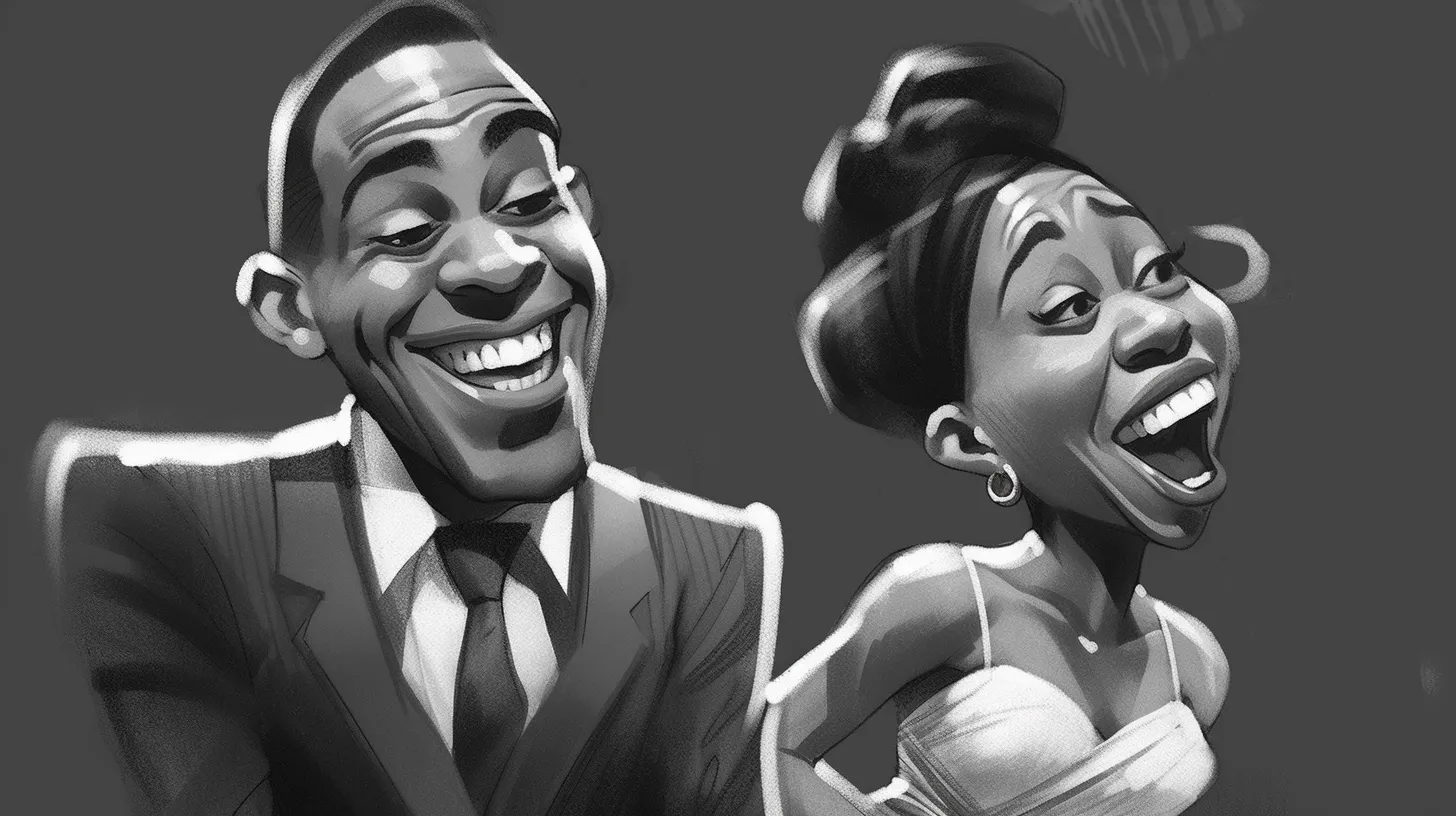 Choreographed Processionals
Forget a simple walk down the aisle; Haitian wedding parties know how to make an entrance! The bridal processional is an intricate choreography with specific roles and orders.
First come the bouquets and boutonnières being carried down by the children. Next is the maid of honor, boogieing her way to the altar solo. The best man struts in right after.
Then, at last, comes the beautiful bride, escorted by her father. The groom steps forward to lead her the rest of the way. When it comes to weddings, Haitians sure do know how to coordinate!
The Important Roles of a Best Man and Maid of Honor
Unlike American weddings, Haitian best men and maids of honor take on big responsibilities—and we ain't talking about planning bachelor parties!
The best man organizes the groom's outfit and transportation, oversees the guest list, helps announce the wedding, and assists the couple throughout the day.
The maid of honor is in charge of the bride's dress and accessories. She's basically the bride's right-hand woman, making sure everything is perfect. Bridesmaids and groomsmen aren't a thing.
So if you're chosen as the best man or maid of honor, get ready to handle major wedding tasks! But you'll get to be front and center during all the celebrations.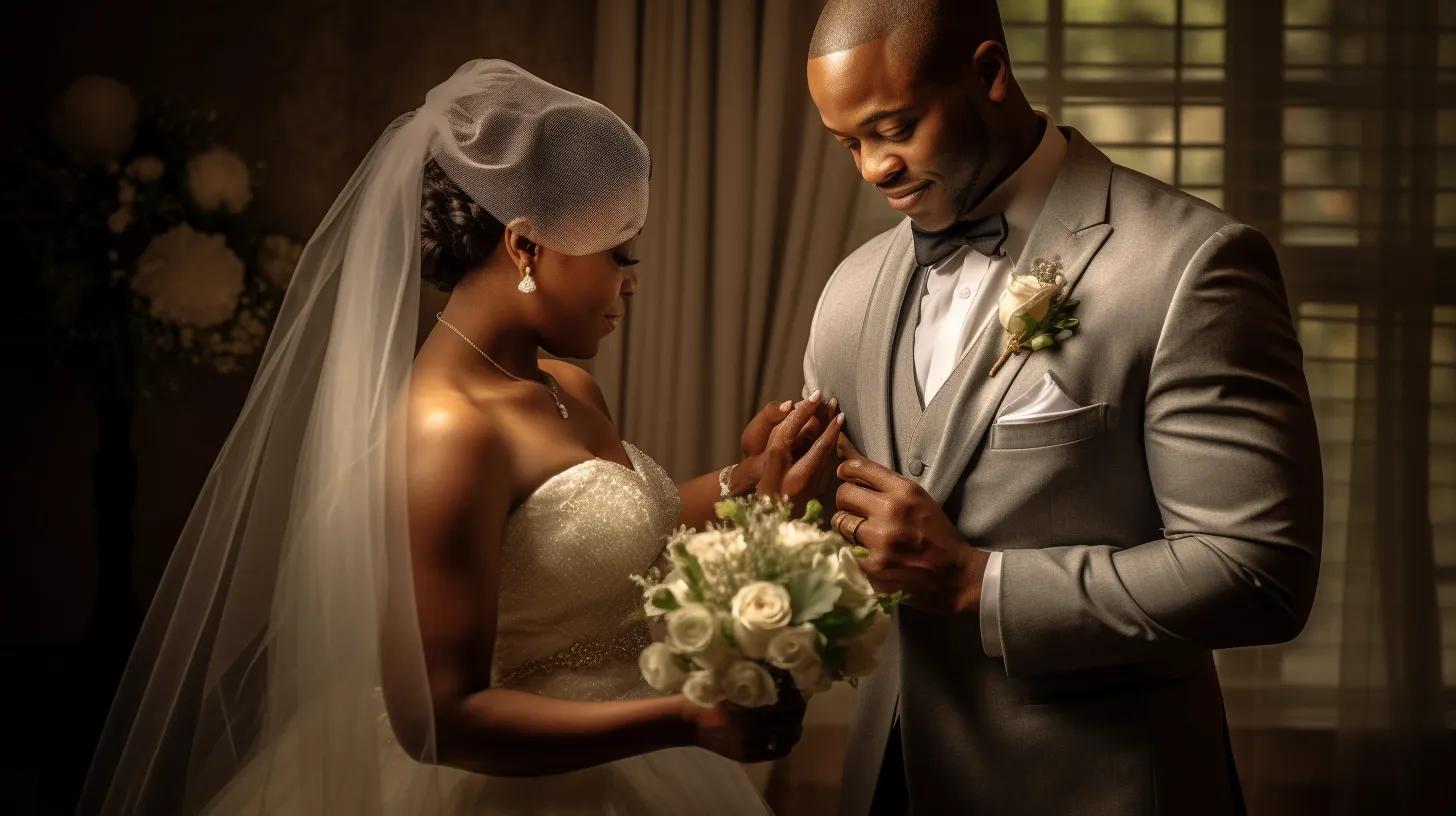 Groom leads the way.
At a Haitian ceremony, all eyes are on the groom as he proudly walks down the aisle first. Next come the best man, flower girls, and ring bearers.
Once everyone is in place, the guests stand as the bride makes her grand entrance on her father's arm. But then comes a swoon-worthy moment.
The groom steps forward to lead his bride the rest of the way down the aisle. He takes her hand in his, signaling his duty to guide and honor her as they embark on marriage.
The symbolism may seem old-fashioned, but guests eat it up! This traditional gesture never fails to delight.
Three-Hour Ceremonies
I hope you're wearing comfy shoes, because Haitian wedding ceremonies take their sweet time! Vows, readings, blessings, communion, live music—these weddings cover it all with joyful celebration.
Catholic, Baptist, and Adventist ceremonies last at least two to three hours. Vodou weddings can stretch on even longer as the spiritual energy flows. Haitians want to savor every meaningful moment of the couple's union.
Now some younger, more urban couples opt for shorter ceremonies. But most Haitian newlyweds prefer a leisurely stroll down the aisle to a sprint! Their patience pays off with a day to remember.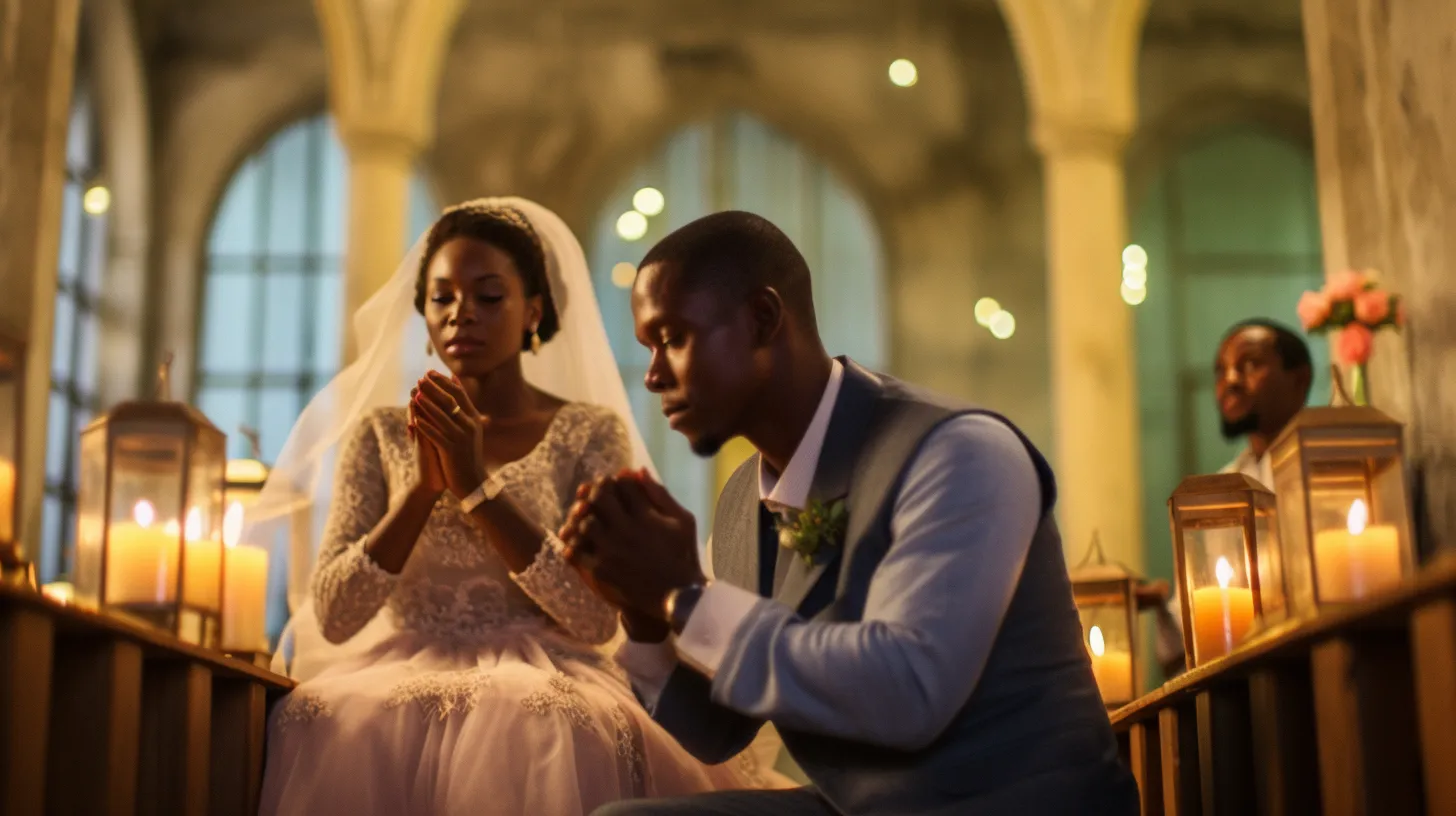 Key Takeaways:
Haitian weddings have a lively communal spirit with strong family bonds.
Traditions like the groom's financial role and the best man's duties reveal Haiti's cultural values.
Elaborate processions and lengthy ceremonies create an unforgettable experience.
Cultural Dress Traditions
I know you're dying to see those wedding fashions, honey! Haitian wedding style totally dazzles with vibrant colors and textures galore.
Most brides don Western white gowns—thanks to globalization! But they rock gorgeous headwraps called tignons. Grooms wear classic suits, while the wedding party pairs formalwear with traditional accessories.
And don't forget to dress to impress as a guest! Fancifulness is mandatory for this special day. Grab your sequins and fedoras, because we're celebrating in style.
Dressing like the newlyweds
If you really want to complement the bride and groom, take a style cue from Haiti's embarrassing riches. Guests sometimes wear outfits matching the newlyweds' colors!
Like if the bride's in snow white, the mother-in-law might rock a crisp white suit. Or if the groom's in black tails, his groomsmen may don black suits too.
It's up to you if you want to twin with the happy couple. Either way, just make sure to dazzle! The day's honorees will appreciate you looking good.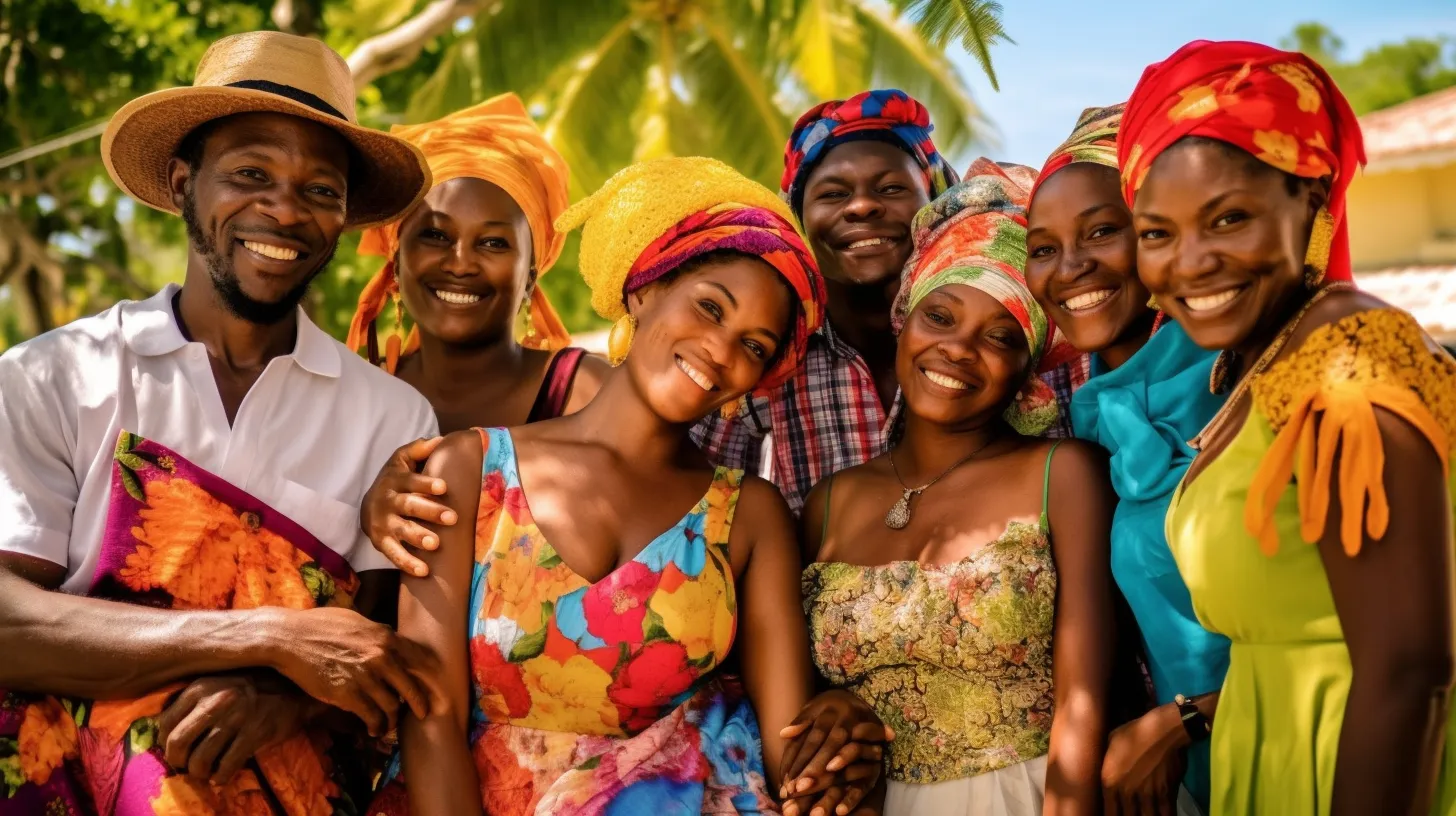 Reception Traditions
The party doesn't stop after the "I do's—it just gets started! Haitian wedding receptions know how to lay down epic celebrations full of music, moves, and meals that marry Old World traditions with Caribbean flavor.
Dancing the Night Away
Get ready to hit the dance floor! Haitian wedding receptions center around nonstop dancing to lively music. Couples even have choreographed first dances.
The string-heavy Rasta bands unique to Haiti set an infectious groove that gets everyone moving. Traditional kompa and Creole rock beats ensure festivities last into the wee hours!
Reception Food
After all that dancing, you're going to need some fuel! Haitian wedding spreads highlight classic Creole cuisine and street eats. We're talking griot, tassot, accra, pikliz, and tropical fruit overflowing.
For the cake, couples get creative with Haiti's tropical flair. Passionfruit, mango, guava—you name it, they've made a cake with it! Rum cakes spice things up too.
The wedding cake is for the couple only.
Here's a quirky Haitian tradition: the wedding cake is just for the bride and groom! Guests won't get a slice of that rum-soaked confection.
The couple shares a ceremonial first bite, then takes the rest home. Keeping the cake private represents the sweet and intimate union guests are honoring that day.
So don't reach for a frosting rose! There's plenty of other delicious food to enjoy instead.
Reception Table
Wondering where you'll sit for the epic feast? Look for your names on little table cards made especially for each guest. Haitian receptions have assigned seating.
Newlyweds get their own sprawling table right up front. The maid of honor and best man sit at the head table too.
Family members and the wedding party get priority spots up close. Regular guests are seated farther back. But proximity just means more dancing room, so have at it!
Giving gifts at the reception
Haitian guests express their love via gifts—the more gifts, the better! Depending on their means, folks may give money or items like linens, furniture, or kitchenware to help the new couple set up their home.
Guests can drop off gifts when signing the marriage certificate before the wedding. Or bring them to the reception. Either way, gifts get the marriage started off right.
Cremas
No Haitian reception is complete without this fiery liqueur! Cremas packs a sweet, vanilla, and orange punch with a healthy splash of rum.
The mother-in-law traditionally serves cremation shots to wedding guests. Bottoms up—it's impolite to refuse! Clinking glasses and sipping coffee make for a lively reception in haitian culture.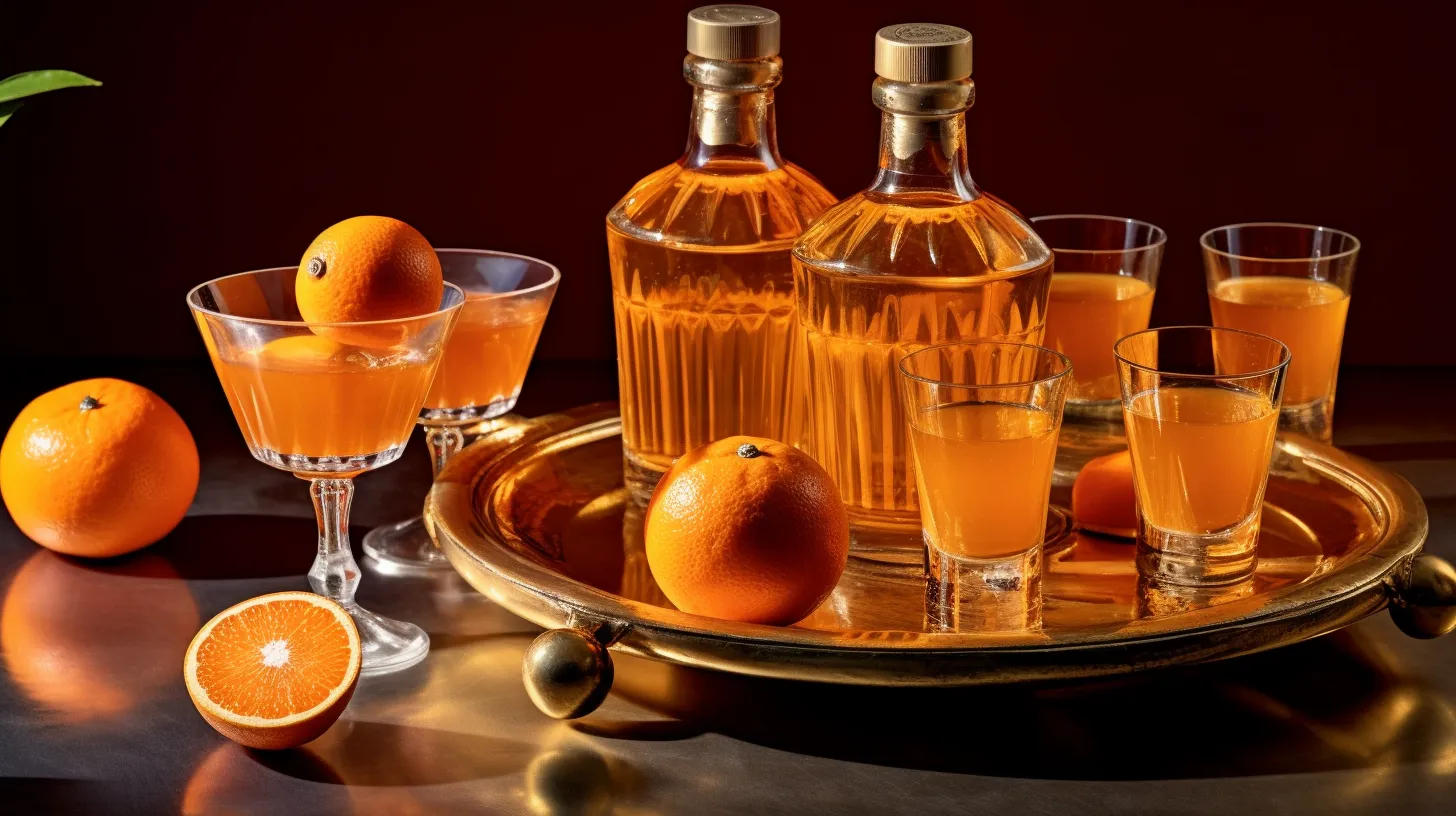 Key Takeaways:
Music and dancing are central to epic Haitian wedding receptions.
Food blends classic cuisine with tropical flair. The wedding cake is just for the couple.
Traditions like assigned seating and cremation shots keep the party vibes flowing.
Post-Wedding Traditions
The party is wrapped, the gifts are unpacked—now what? Haitian newlyweds have a few more traditions before settling into married life. There's some honeymoon hype, plus a visit with the in-laws.
Honeymoon
Blissful beach time awaits Haiti's newlyweds! Couples typically honeymoon in the Dominican Republic, Jamaica, or even Miami if funds allow. Lounging on white sands makes for romantic perfection after the big day.
Many young city dwellers now plan exotic honeymoons abroad. But laid-back local stays are still common, too. Wherever they land, Haitian lovebirds can bask in that newlywed glow a little while longer.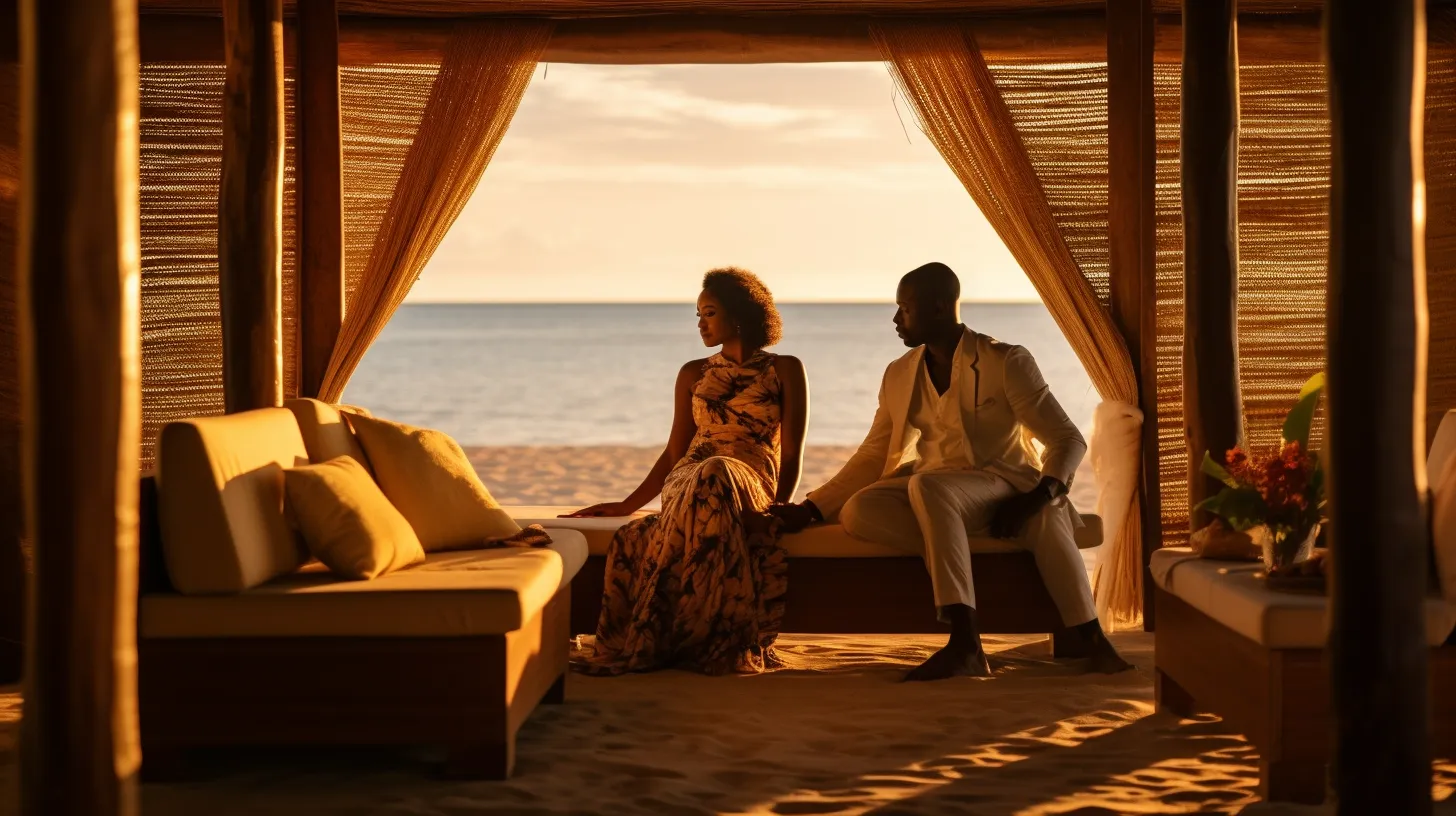 Morning After Visits
Here's a funny tradition to start married life: visiting the in-laws the "morning after" your wedding night! The very next day, the couple stops by their parents' homes.
Families inquire about the couple's wedding night and share advice for the marriage road ahead. It's all in good fun, with laughter and love. Just another way Haitian newlyweds stay connected to their parents as they embark on their journey together.
Conclusion
Thanks for partying with us on this journey through Haitian wedding traditions! It just goes to show how celebration, community, faith, and pride in heritage all marry together for a magical day. We sure can learn from Haiti's big-hearted wedding spirit.
However you tie the knot, may your marriage be blessed with vivacity, compassion, and just enough rum to keep life sweet. Here's to all the happy couples out there—as the Haitians say, "Kanpe fim!"
Meta description: Discover the lively music, communal spirit, and colorful fashions that flavor uniquely Haitian wedding traditions, from choreographed processionals to three-hour ceremonies.