Did you know that there are over 50 different types of pasta? We'll take a look at some of them and talk about which type of pasta you should use for making this Haitian Spaghetti recipe.
In this blog post, we'll discuss the ingredients needed to make the authentic Haitian Spaghetti dish and some basic tips for making your version of this unique pasta dish.
Spaghetti in the Haitian style is a meal that is both simple and approachable, and it is prepared entirely from scratch. Not overly saucy, seasoned with just the correct amount of spices, and bursting with plenty of flavors thanks to the uncured sausages.
This spaghetti and meat sauce, created entirely from scratch, can be prepared quickly and easily on weeknights.
You might be wondering, "What exactly is Haitian Spaghetti?" Spaghetti, Herrings or hot dogs, tomato sauce or ketchup, and various seasonings are the main components of Haitian spaghetti.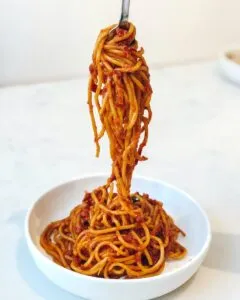 The recipe calls for a relatively small number of basic ingredients and a short amount of hands-on time, which may be prepared in various ways. In contrast to the procedures of other recipes in Haitian Cuisine, the tomato paste or ketchup needs to be simmered in oil before the pasta can be added. Because of this, the pasta is colored in this way.
Many people, including myself, have modified the recipe by substituting different kinds of meat links for the hot dogs in the original version. Depending on my current state of mind, my recipe may or may not include shellfish, Italian sausage, chicken sausage, cut-up ham flesh, or turkey sausage. It may even omit meat entirely.
Additional toppings that can be added to this pasta meal
Many people put in smoked herring, which must be unsalted before it's put in the oven. Another version that I have tried is making it with anchovies rather than smoked herring. The flavor is comparable to smoked herring but still quite tasty.
If you don't want to include meat in your dish, you can substitute it with veggies. Both spinach and kale are wonderful additions to any dish.
Your version of Haitian spaghetti is exactly what it sounds like because of the ingredients you use. The primary objective is to achieve the excellent taste and the desired shade of red. In most cases, organic tomato paste is used rather than normal tomato paste on my kitchen counter.
What purpose does it serve?
This dish is offered for daily breakfast and lunch in Haiti, as is customary there. Because it has a wide range of applications, you can even eat it for dinner. It is a complete dinner and comes with slices of avocado as an accompaniment. Because there is no sauce, the pasta does not have a saucy consistency. And it's not dry either, because you saved some water from the pasta.
What you should do is as follows:
Prepare the pasta following the directions provided on the package.
While the pasta is boiling, you can start the sausage or hot dogs to fry in a skillet in a pot. If you are utilizing any leftover meat, add it to the mixture of tomato paste and garlic before adding the pasta.
Cook the tomato paste in the oil in a separate pan until the two ingredients are thoroughly combined.
First add the seasonings, then the meat, and finally the noodles.
Prepare pasta by boiling it as directed on the package.
While the oil is heating up, add the tomato sauce or ketchup to a large, heavy saucepan.
Cook the tomato paste for three to four minutes, stirring so often (add an extra tablespoon if you plan to use ketchup).
After adding the garlic, onion, and thyme, continue to stir the mixture while cooking it for another four minutes.
Stir in the chicken bouillon after adding it.
Sausages should be cooked or pan-fried in a separate skillet using a very small amount of oil to the mixture with the tomatoes.
After adding the pasta to the saucepan with the tomato and sausage combination, please give it a good toss to combine the ingredients while slowly pouring in the pasta cooking water.
Reduce the heat, cover the pan, and continue cooking for another 4–5 minutes.
If you're using it, add some crushed red pepper.
Salt and pepper can be added to taste as a seasoning. Serve hot, accompanied by a salad.
This recipe is simple enough for almost anyone to master. Even the most inexperienced cooks can whip it up in less than 30 minutes.
The key to the recipe is the type of pasta and the sauce, but this dish has so many variations that I can't fit them all in this one article.