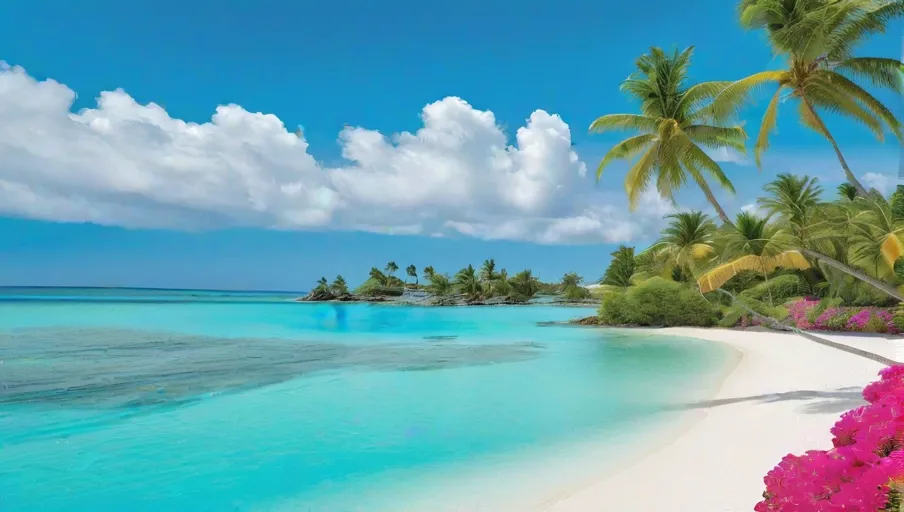 Escape to the captivating beauty of Moulin Sur Mer, a hidden tropical paradise in Montrouis, Haiti. Nestled along the pristine white-sand beaches, this idyllic resort offers a tranquil retreat like no other.
Immerse yourself in the mesmerizing turquoise waters, indulge in delectable cuisine infused with local flavors, and unwind at our poolside bar. With world-class amenities and exceptional service, Moulin Sur Mer promises an unforgettable experience for those seeking a getaway from the ordinary.
Discover the freedom of a true tropical paradise.
Moulin Sur Mer is located in Montrouis, Haiti, and is surrounded by a turquoise-blue ocean and stunning sunsets.
Guests can choose from bungalows, classics, and suites for accommodation options, all providing breathtaking views of the ocean.
Voomtak offers authentic Haitian cuisine sourced from nearby markets, allowing guests to connect with the local community and culture.
Moulin Sur Mer offers a range of activities and amenities, including water sports, a serene pool, and a rejuvenating spa, providing a true tropical paradise experience.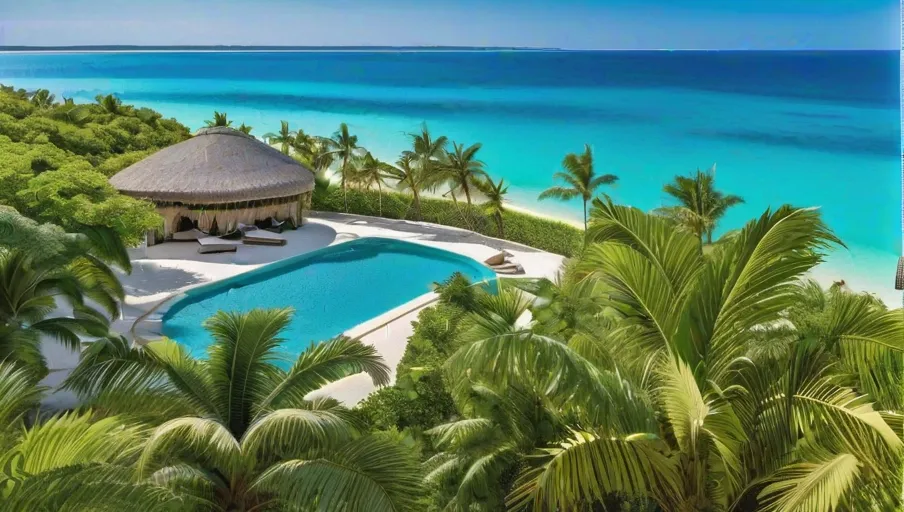 The location of Moulin Sur Mer in Montrouis, Haiti, offers guests an idyllic tropical paradise surrounded by turquoise blue ocean and stunning sunsets. This hidden gem is situated facing La Gonave, the largest island in the bay, providing a picturesque backdrop for a truly unforgettable experience.
As guests relax in the tranquil atmosphere, they can explore the local attractions near Moulin sur Mer, such as the Montrouis farmers market, where they can find fresh, local produce.
Nature enthusiasts will be delighted by the abundant wildlife and nature in the surrounding area. From colorful tropical birds to lush vegetation, there is no shortage of natural beauty to admire.
Whether it's a leisurely stroll on the beach or a thrilling adventure exploring the nearby forests, Moulin Sur Mer offers a sense of freedom and connection with nature that is truly unmatched.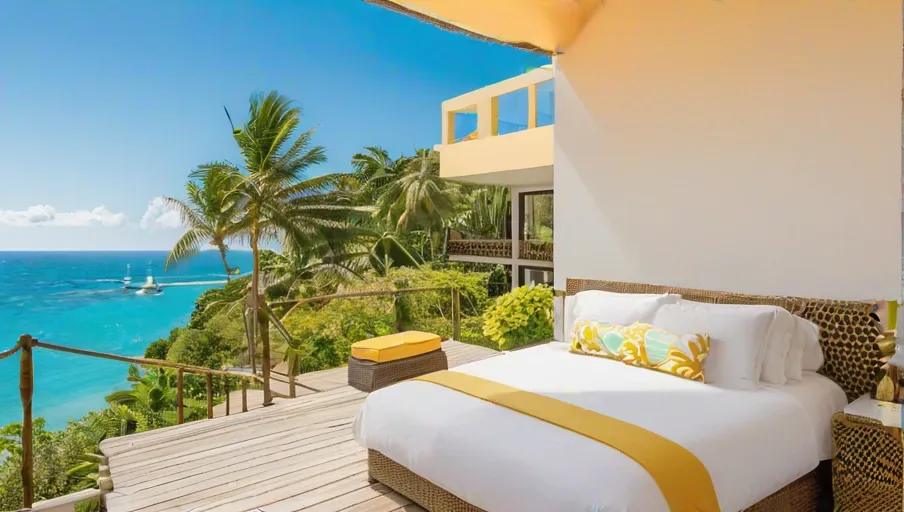 Guests can choose from a variety of accommodation options at Moulin Sur Mer, including bungalows, classics, and suites, with each option offering unique amenities and views, ensuring a truly memorable stay.
The beachfront bungalows provide direct access to the turquoise-blue ocean and offer a sense of tranquility and freedom. With their classic Caribbean-style decor and Haitian art, the bungalows immerse guests in the vibrant culture of Haiti.
The classics and suites, on the other hand, offer closer proximity to the resort's amenities while still providing breathtaking views of the ocean. The Caribbean-inspired decor creates a relaxed and inviting atmosphere, allowing guests to unwind and embrace the freedom of their tropical surroundings.
| Accommodation Options | Amenities and Views |
| --- | --- |
| Beachfront Bungalows | Direct access to the turquoise blue ocean |
| Classics | Proximity to resort amenities, breathtaking ocean views |
| Suites | Proximity to resort amenities, breathtaking ocean views |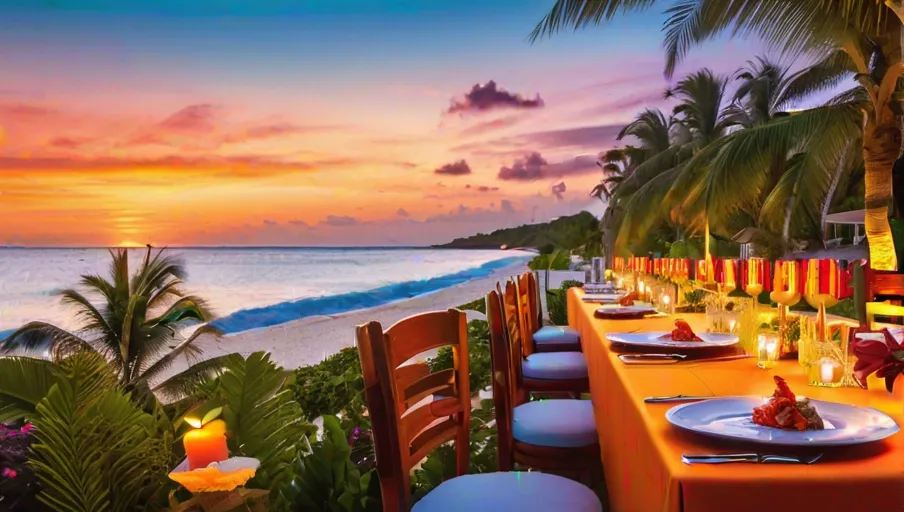 Savoring the delectable Haitian specialties and international cuisine, guests can indulge in a culinary experience at Voomtak while enjoying the picturesque seaside view. Located in Montrouis, Haiti, Voomtak offers a unique opportunity to meet locals and immerse oneself in the vibrant Haitian culture through its authentic cuisine.
The menu features a variety of Haitian food specialties, such as djondjon rice and seafood etouffées, made with fresh vegetables sourced from nearby markets.
For those looking to try traditional Haitian breakfast options, Voomtak offers pasta or oatmeal, along with made-to-order omelets and fresh fruits.
The dining experience at Voomtak not only satisfies the taste buds but also provides an opportunity to connect with the local community and experience the rich flavors of Haitian cuisine.
Indulging in the mouthwatering Haitian specialties for lunch and dinner, guests can truly savor the rich and flavorful cuisine at Voomtak while immersing themselves in the vibrant Haitian culture.
At Voomtak, you can experience the best of Haitian culinary delights, especially the seafood delicacies that will tantalize your taste buds.
Freshly caught seafood: From succulent lobster and shrimp to tender fish fillets, Voomtak offers an array of seafood options that are prepared with traditional Haitian flavors and spices.
Djondjon rice: A signature Haitian dish made with black mushrooms, aromatic spices, and tender meat, Djondjon rice is a must-try delicacy at Voomtak.
Seafood etouffées: These rich and hearty stews feature a medley of seafood simmered in a flavorful sauce and served with rice or bread. The combination of fresh seafood and aromatic spices creates a culinary experience like no other.
Indulge in these Haitian specialties at Voomtak and embark on a culinary journey that celebrates the flavors and traditions of Haiti.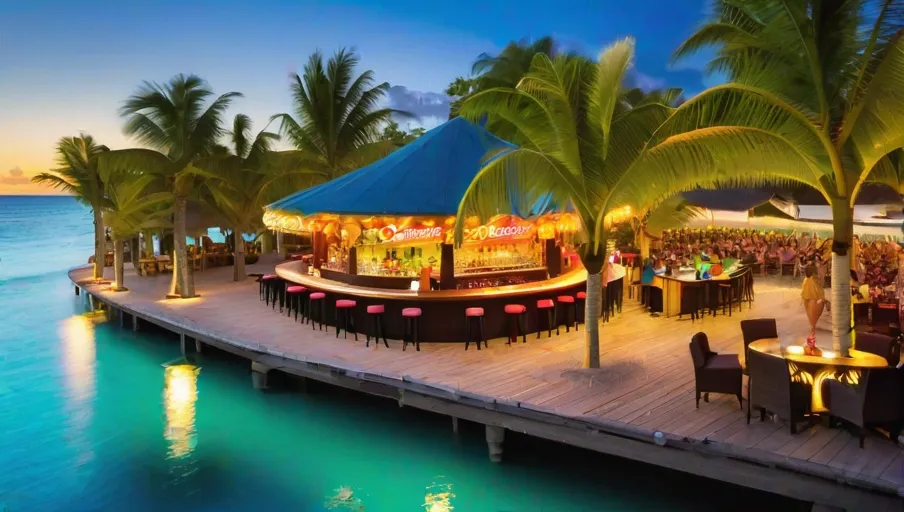 With a variety of classic drinks and exclusive cocktails, guests can unwind and enjoy the vibrant atmosphere at Moulins Cabaret, either poolside or seaside.
Moulins Cabaret is the perfect place to experience the nightlife options at Moulin Sur Mer. The bar offers a range of delicious and refreshing drinks guaranteed to satisfy any taste.
Whether you prefer a classic cocktail or something more unique, the talented bartenders at Moulins Cabaret have you covered.
As you sip on your drink, you can take in the stunning views of the pool or the ocean, adding to the overall ambiance of the venue. To enhance your experience, Moulins Cabaret also offers live entertainment, ensuring that your evenings are filled with excitement and enjoyment.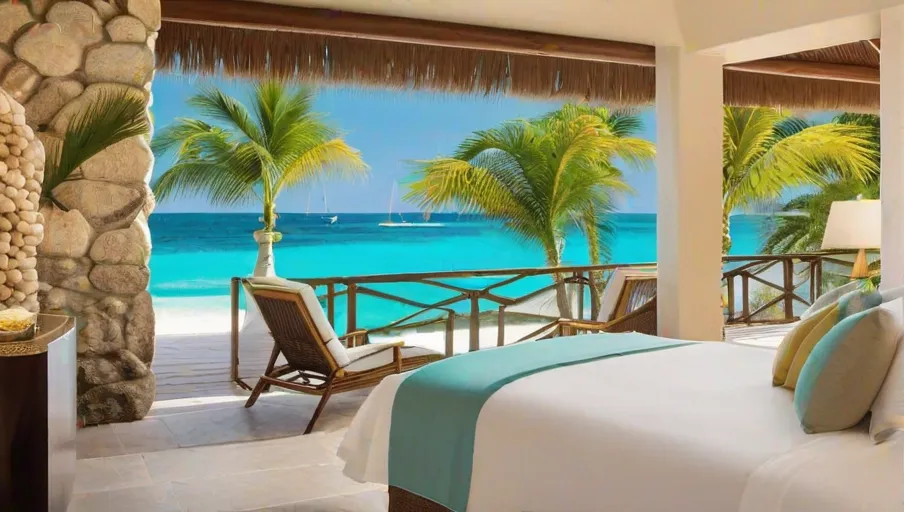 The activities and amenities at Moulin Sur Mer provide guests with a wide range of options to enhance their tropical paradise experience. Here are three highlights:
Exploring local attractions: Moulin Sur Mer is located in Montrouis, Haiti, offering guests the opportunity to explore the rich culture and beauty of the area. From visiting historic landmarks to immersing oneself in the vibrant local markets, there is something for everyone to discover.

Spa and wellness services: For those seeking relaxation and rejuvenation, Moulin Sur Mer offers a variety of spa and wellness services. Indulge in a soothing massage, unwind in the sauna, or take a refreshing dip in the pool. The resort's serene environment and professional staff ensure a blissful experience.

Outdoor activities: With its stunning location facing the turquoise blue ocean, Moulin Sur Mer is perfect for outdoor enthusiasts. Guests can enjoy activities such as snorkeling, kayaking, and beach volleyball. Whether you prefer lounging by the water or getting active, there is no shortage of options to enjoy the tropical paradise.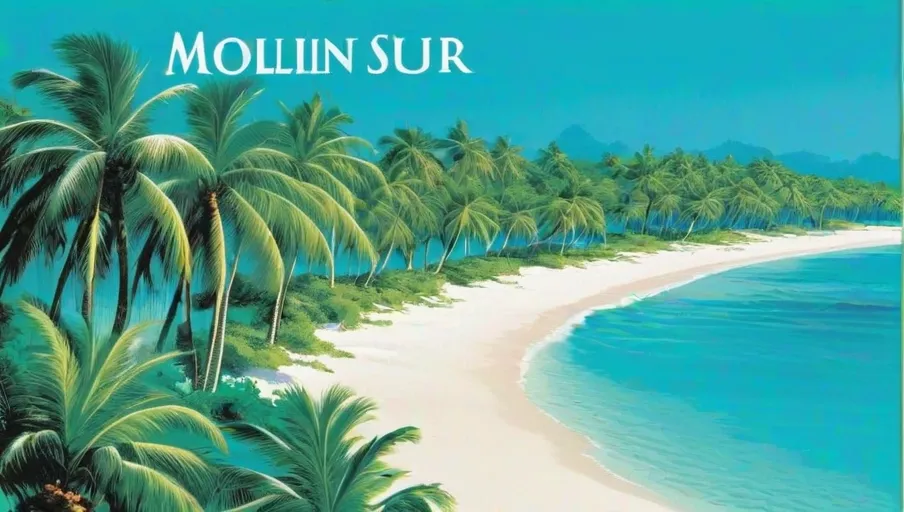 Visitors can discover numerous pristine beaches along the coast of Montrouis, Haiti, and experience the natural beauty of the area while exploring the beaches.
From soft white sands to crystal-clear waters, these beaches offer a perfect retreat for those seeking tranquility and relaxation. In addition to the stunning scenery, these beaches also provide opportunities for exciting activities such as snorkeling and diving to explore the vibrant marine life.
For those looking to find inner peace, beachfront yoga sessions are available, allowing individuals to connect with nature while finding balance and serenity.
Here is a table showcasing some of the breathtaking beaches in Montrouis, Haiti:
| Beach Name | Features |
| --- | --- |
| Moulin-sur-Mer | Pristine sands, turquoise water |
| La Gonave | Largest island in the bay |
| Paradise Bay | Idyllic sunsets, calm waves |
| Coral Cove | Ideal for snorkeling |
| Coconut Beach | Palm trees, soft white sands |
Whether you're an adventure seeker or a wellness enthusiast, these beaches in Montrouis, Haiti, offer a slice of paradise where you can explore marine life and indulge in rejuvenating beachfront yoga sessions.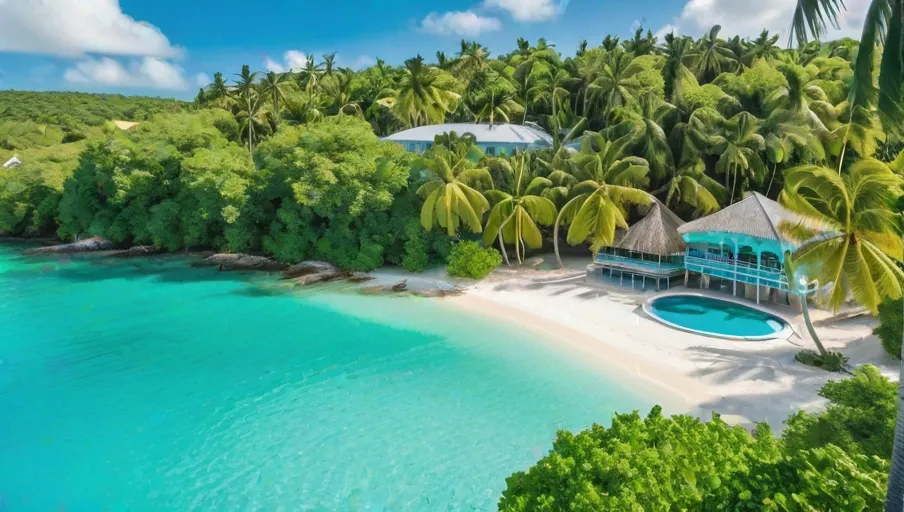 Additionally, participants can enjoy a variety of thrilling water sports and excursions, such as snorkeling, jet skiing, and boat tours, which provide an exciting way to explore the stunning coastline of Montrouis, Haiti.
Snorkeling adventures: Dive into the crystal-clear waters of Montrouis and discover a vibrant underwater world teeming with colorful coral reefs and exotic marine life. Snorkeling is a popular activity for both beginners and experienced swimmers, offering a unique opportunity to get up close and personal with the fascinating creatures that call this area home.

Island hopping excursions: Embark on an unforgettable journey to the nearby island of La Gonave and explore its untouched beaches, hidden coves, and lush tropical landscapes. Island hopping allows you to discover the beauty and diversity of this region, hopping from one paradise island to another, while enjoying the refreshing ocean breeze and breathtaking views.
Whether you are an adrenaline junkie or simply seeking a unique way to connect with nature, these water sports and excursions in Montrouis, Haiti, offer the perfect opportunity to create memories and experience the freedom of the open sea.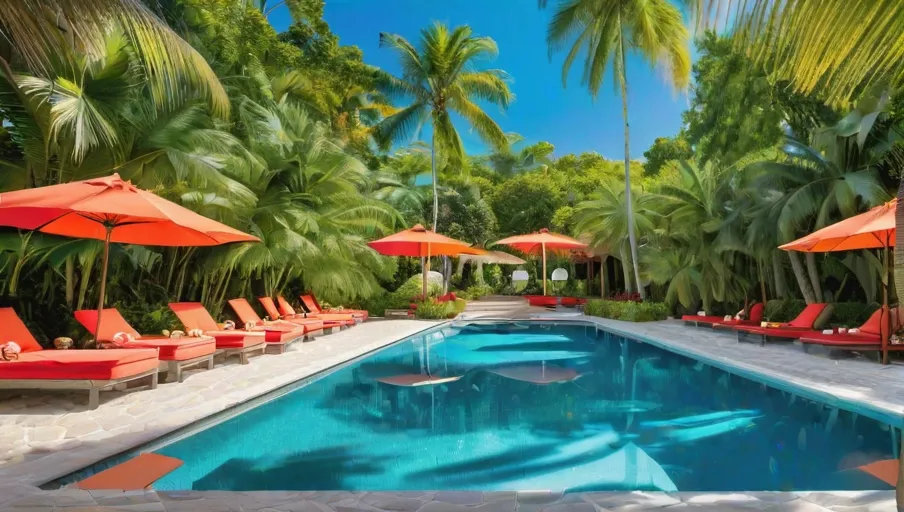 While enjoying the tranquil ambiance at Moulin Sur Mer, guests can unwind by the pool, basking in the warm Haitian sun and savoring moments of pure relaxation.
The poolside at Moulin Sur Mer offers the perfect setting for ultimate relaxation, where guests can lounge by the water, soak up the sun, and enjoy poolside cocktails. The pool area is beautifully designed, with comfortable loungers and umbrellas providing shade for those seeking a break from the sun.
The poolside bar, Moulins Cabaret, serves a variety of delicious and refreshing drinks, including classic cocktails and exclusive creations. Guests can indulge in the popular happy hours and sip on their favorite beverages while taking in the picturesque surroundings.
Whether you prefer a dip in the pool or simply lounging by the water, the poolside at Moulin Sur Mer is an oasis of relaxation and serenity.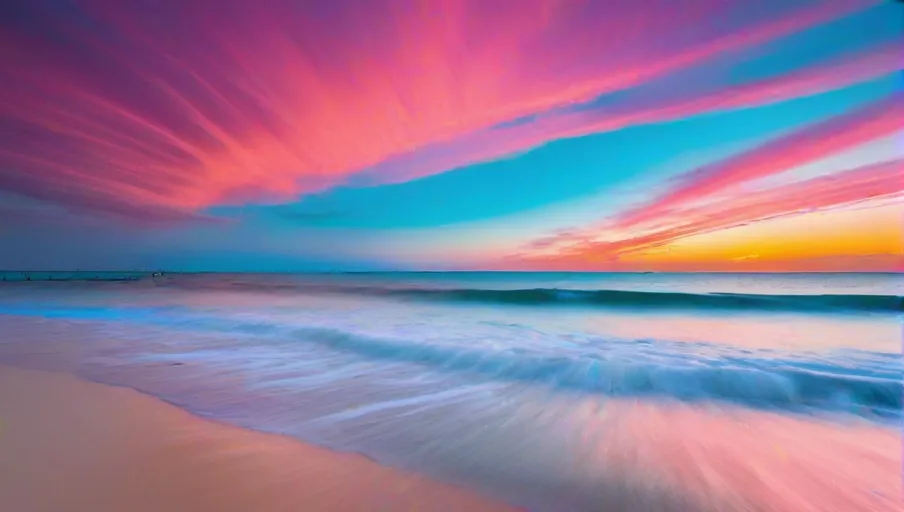 The breathtaking view of Moulin Sur Mer's unforgettable sunsets creates a sense of awe and wonder among guests. Located in Montrouis, Haiti, this beachfront retreat offers the perfect setting for romantic getaways.
Here are three reasons why Moulin Sur Mer's sunsets are truly unforgettable:
Idyllic Location: Facing the turquoise blue ocean and the largest island in Haiti's bay, La Gonave, Moulin-sur-Mer provides a picturesque backdrop for witnessing stunning sunsets. The combination of the mesmerizing waves and the golden hues of the setting sun creates a truly magical experience.

Caribbean Charm: The accommodation at Moulin Sur Mer, featuring Hibiscus and Ginger rooms, boasts classic Caribbean-style decor. With touches of Haitian art throughout, guests can immerse themselves in the local culture while enjoying the breathtaking sunsets from their bungalows, classics, or suites.

Serene Atmosphere: As the sun sets over the horizon, guests can enjoy a romantic dinner or sip refreshing drinks at the Moulins Cabaret. Whether by the poolside or seaside, this tranquil setting allows for a truly blissful experience.
At Moulin Sur Mer, the unforgettable sunsets provide a sense of freedom and tranquility, making it the perfect destination for a beachfront retreat.